Cool Diabang est un artiste pluridisciplinaire proche de la terre et de la nature
Peinture
Le peintre Cool Diabang accumule les couches de couleurs acryliques pour vous conter son histoire et l'Afrique.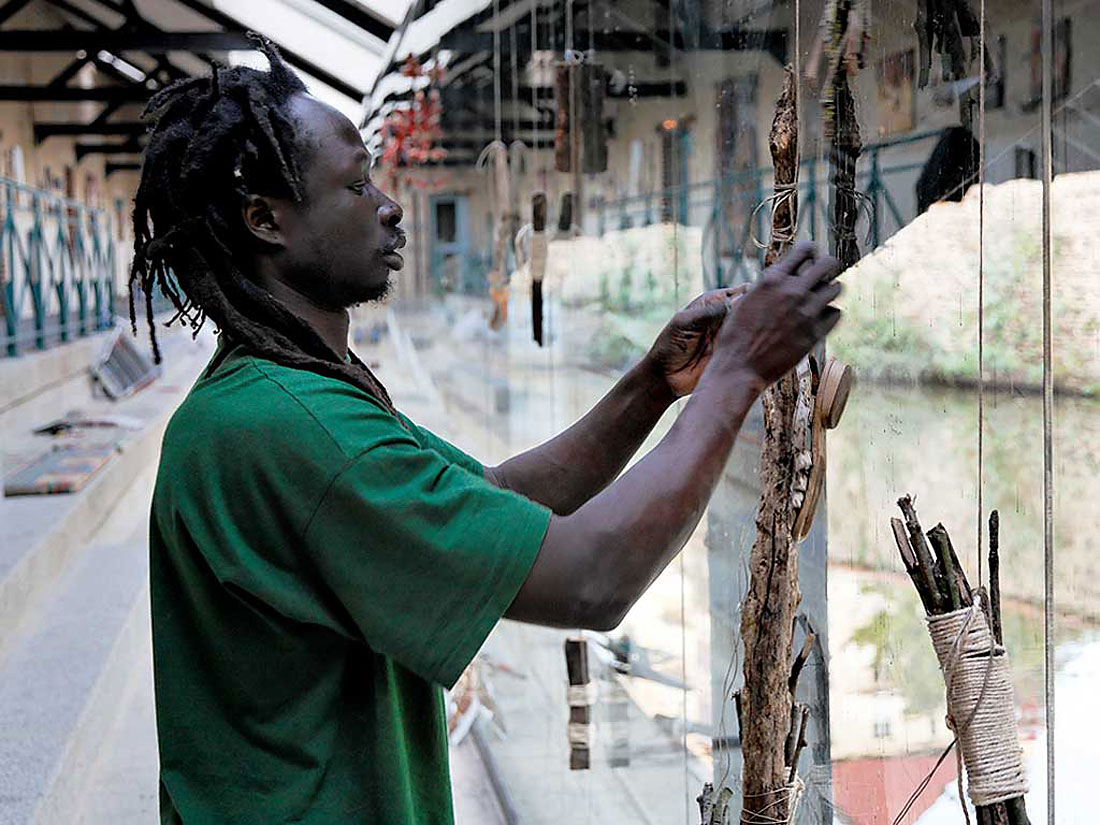 Installations
Prêtez lui un espace et Cool Diabang l'occupera en beauté pour prêter, lui, à réfléchir.

Dessins
Les dessins de Cool Diabang sont brutes, comme des cris visibles !
Sculpture
Découvrez par vous-même les sculptures de Cool Diabang, quand l'artiste récupère des matériaux pour illustrer ses pensées en volumes.
Performances
Lorsque Cool Diabang s'exprime avec son corps et des matières de son environnement, vous vivez à ses côtés une expérience inoubliable.
Travaux
L'artiste Cool Diabang a plusieurs cordes à son arc. Lors de ses études aux Beaux-arts de Dakar au Sénégal, il a découvert de multiples techniques et toutes lui sont nécessaires pour s'exprimer : Peinture, sculptures, performances, installations, musique…
Né au Sénégal, Cool Diabang est actuellement basé à Rennes, en France. Les expositions récentes de Diabang comprennent le TUFA Art Center, Trèves, Allemagne, la Galerie Vie de Chien, Dinan, France, le Kino Kino Museum, Sandness, Norvège et Wechselrum 3, Rudolf-Steiner-Haus, Bonn, Allemagne. Diabang a également co-organisé TAWI (Tuki Artiste Workshop International) pour le Dak'Art Off, 2016, Sénégal.
TRANSLATION
Born in Senegal, Cool Diabang is currently based in RenneS, France. Diabang's recent exhibitions include TUFA Art Center, Trier, Germany, Galerie Vie de Chien, Dinan, France, Kino Kino Museum, Sandness, Norway and Wechselrum 3, Rudolf-Steiner-Haus, Bonn, Germany. Diabang also co-organised TAWI (Tuki Artiste Workshop International) for the Dak'Art Off, 2016, Senegal.
Formations
1992 – 1996: Ecole Nationale des Beaux Arts de Dakar – Sénégal
Hh Diplôme Nationale des Beaux-Arts – DNB
2013 – 2014: Formation en Art Thérapie, Université Alanus Hochschule, Bonn – Allemagne
Expositions individuelles
2019 : Esquisse Galerie d' Art , Nyon – Swizerland
2017: Maison International de Rennes , France
2016: Nest Gallery Geneva – Genève, Suisse
Galerie Les Arts D'Ille – Saint-Germain-Sur-Ille, France
2015: Centre Culturel Juliette Drouet Fougères, France
2011: Coexiste Gallery, Southend on Sea, Uk.
2010: Collège E.Galois- Montauban de Bretagne.
2008: Galerie Pictura, Cesson-Sévigné, France
1999: 2006 Galerie du Lavoir, Rennes, France
2000: Galerie Rapinel, Bazouges la Pérouse, France
1999: Galerie Spirit in Stones, Wyk By Duurstede, Pays-Bas
Expositions collectives
2019 Studio 1.1 Gallery, London UK .
2018, Biennzle Dak'art Off , Mbour , Senegal.
2016: Galerie l'Invantrie – Montauban, France
«Guissou Me Le Mbao» Dakar, Sénégal
Villa Dutoit – Genève, Suisse
Village Green Festival, Southend on 32Sea, Uk
«TAWI» Dak'Art, Biennale des Arts de 😃Dakar, Sénégal
Gallery Studio 1.1 – Londres, Angleterre
Rudolf Steiner Haus in Bonn, Allemagne
Atelier 2 Bis, Dinan, France
2015: Galerie Vie de Chien – Dinan, France.
Kino Kino Museum – Sandness, Norway.
2014: Biennale Dak'Art Off, Ker Absa Résidence – Popenguine, Sénégal
TGD 10, Musée IFAN Dakar, Sénégal
2012: Loods 6 Gallery – Amsterdam, Nederland.
2009: 18e Salon Europ'Art de Genève – Swissland.
2008: "Femmes et Autorité" Villa Dutoit – Genève, Suisse
Art Basel Off, Galerie Hohlraum 11 Basel- Swissland.
2006: Galerie Kralingen, Rotterdam, Nederland.
2002: Palais des Nations Unies, Genève, Swissland.
1999: Galerie Zonne, Leiden, Nederland.
Galerie Langense Enk, Berchem, Nederland.
1998: Biennale « DAK'ART OFF », Musée Boribana, Dakar , Sénégal
Performances
2017: Monument de la Renaissance Africaine Dakar. Exposition Souvenir : La palette
Tfm.
2016: «Guis Sou Me Le Mbao» Dakar, Sénégal
Village Green Festival, Southend on Sea, Uk
Nest Gallery Geneva – Genève, Suisse
«TAWI» Dak'Art, Biennale des Arts de Dakar, Sénégal
Villa Dutoit – Genève, Suisse
2015: Village Green Festival, Southend on Sea, Uk
Künstlerhaus – Salzburg, Autriche
26. Sommerakademie, Alanus Hochschule – Bonn, Allemagne
Alanus Hochschule – Bonn Alfter, Allemagne
2014: lFAN Museum, Dakar, Sénégal
Espace VEMA – Dakar, Sénégal
2011: 2012 , Awa Gallery, Amsterdam, Nederland.
2008: Festival Agitato, le Triangle , Rennes , France.
2008: 2015, Several performances with Collectif Utopia Performances in France.
2003: Mister president, Alanus Hochschule, Bonn Alfter, Germany.
Workshop – Residence – Symposium
2015: Résidence , 26. Sommerakademie Alanus Hochschuler, Bonn – Germany
2012: DIY9 worksop, Penzance Cornwall, UK
2008: Workshop International TGD 7 , Genève – Suisse.
2007: Braziers International Artist Workshop, Oxford, Royaume Uni
2004: Workshop International TGD4, Tambacounda, Sénégal .
2003: Symposium Language of colors, Bonn – Alfter, Germany.
1993: « Losito Build und Freundschaft » Workshop and Residence in Salzburg, Austria
Boubacar Bonola Diabang alias Cool Diabang est un artiste pluridisciplinaire (peintre, performeur et musicien percussionniste) proche de la terre et de la nature… Né à Abéné, village côtier de Casamance en 1972, il est diplômé de la promotion 1996 de l'École Nationale des Beaux-Arts de Dakar (1992-1996). Il s'est ensuite formé (à travers plusieurs stages) aux ateliers d'art-thérapie de l'université Alanus Hochschule de Bonn, en Allemagne (2013-2014). Depuis 1999, Diabang vit et travaille au Sénégal et en France ; il expose et est régulièrement invité en résidence au Royaume-Uni, en Suisse, en Autriche, en Allemagne, aux Pays-Bas… et en Afrique… Son ouverture à l'expérimental l'amène à collaborer en performance avec des artistes d'horizons géographiques et artistiques variés. Diabang fait partie des artistes et acteurs culturels qui œuvrent pour le développement de l'Art et de la Culture en milieu rural.
TRANSLATION
Boubacar Bonola Diabang alias Cool Diabang is a multidisciplinary artist (painter, performer and percussionist musician) close to the earth and nature… Born in Abéné, a coastal village of Casamance in 1972, he is a graduate of the 1996 class of the École Nationale des Beaux-Arts in Dakar (1992-1996). He then trained (through several internships) at the Art Therapy workshops at the Alanus Hochschule University in Bonn, Germany (2013-2014). Since 1999, Diabang has lived and worked in Senegal and France; he exhibits and is regularly invited for residencies in the United Kingdom, Switzerland, Austria, Germany, the Netherlands… and in Africa… His openness to the experimental led him to collaborate in performance with artists from various geographical and artistic horizons. Diabang is one of the artists and cultural actors who work for the development of Art and Culture in rural areas.
Folie artistique ou délire raisonnable dans l'action pratique culturellement poétique, Cool s'inscrit dans cette logique expérimentale. Faire de l'art à partir de la vie, explique les raisons bien fondées de cet artiste très engagé pour la sensibilisation et la promotion  de la performance artistique à travers l'Europe et le reste du monde.
Pour Cool, l'art à caractère performatif réside dans cette nature du temps qui vit sa vie.   Cette  vie, dans le quotidien vit son temps dans une performance impérissable alliant corps, âme et esprit dans un concert de pulsions sensorielles.  Né à Abéné en Casamance, au Sénégal en 1972, Cool vit son art  comme une passion. Il brille par sa libre pratique en créant un style assez singulier doté d'une force irrationnelle qui s'éloigne de la rationalité du pouvoir que conserve son art sous ces divers aspects.
"A son actif, plusieurs expositions, performances, workshops, résidences et concerts… au Sénégal, en Gambie, France, Autriche, Suisse, Pays-Bas, Allemagne, Angleterre…- Membre du collectif d'artistes des Agités du Bocal de Rennes.
– Membre fondateur du collectif d'artistes Ici & Là-bas Arts.
– Directeur artistique du festival Abéné festival à Abéné, Casamance.
La démarche artistique de Cool Diabang est celle d'un artiste authentique – d'un homme vrai – libre penseur et libre faiseur. Il explore le monde, les mondes (mystique, spirituel, imaginaire, réel) et les hommes qui l'entourent et nous donne à voir, à entendre ou à vivre ses perceptions au travers divers mediums (peinture, sculpture, musique ou encore performance). Mais quelque que soit le medium touché il y a toujours le geste – le rythme.  Le mouvement de sa performance de peintre est perceptible même dans l'immobilité de la toile achevée.Ses toiles sont des explosions émotionnelles. Cool Diabang travaille la matière – s'y acharne – s'y incarne. Ses toiles sont parfois scarifiées, grattées, blessées, nouées. Elles sont vivantes et vibrantes. On peut y deviner des liens secrets, s'y inventer des histoires. Elles se font alors l'écho de nos monstres intérieurs ou de nos rêves. Elles sont comme nos humeurs – changeantes. Elles se découvrent à l'infini. Et puis à la tombée de la nuit, entre chien et loup, le Bleu Diabang s'illumine et on se dit qu'il y a quelque chose de l'ordre de la magie qui opère – une alchimie – un don."
En somme, Cool Diabang dévoile avec charisme, ce petit moment de la conscience universelle comme une attitude, une gestuelle, une transformation  d'où une identité, par le biais de sa matrice expérimentale.
Ces divers supports d'exploration, demeurent  son véritable amour pour l'art arrosant l'ensemble des mentalités. Cette pluie de conscience humaine résume en quelques lignes chez Cool, un symbole mémorable que chaque initié devrait comprendre à travers le langage artistique.
Désiré Amani
TRANSLATION
Artistic madness or reasonable delirium in culturally poetic practical action, Cool fits into this experimental logic. Making art out of life, explains the well-founded reasons for this artist's commitment to raising awareness and promoting performance art throughout Europe and the rest of the world.
For Cool, performance art lies in the nature of time living its life.   This life, in the everyday, lives its time in an imperishable performance combining body, soul and spirit in a concert of sensory impulses.  Born in Abéné in Casamance, Senegal in 1972, Cool lives his art as a passion. He shines through his free practice by creating a rather singular style endowed with an irrational force that moves away from the rationality of power that his art retains in its various aspects.
"To his credit, several exhibitions, performances, workshops, residencies and concerts… in Senegal, Gambia, France, Austria, Switzerland, the Netherlands, Germany, England… – Member of the artist collective Agités du Bocal in Rennes.
– Founding member of the artists' collective Ici & Là-bas Arts.
– Artistic director of the Abéné festival in Abéné, Casamance.
Cool Diabang's artistic approach is that of an authentic artist – a true man – a free thinker and a free doer. He explores the world, the worlds (mystical, spiritual, imaginary, real) and the people around him and gives us to see, hear or experience his perceptions through various mediums (painting, sculpture, music or performance). But whatever the medium, there is always the gesture – the rhythm.  The movement of his painting performance is perceptible even in the stillness of the finished canvas. His paintings are emotional explosions. Cool Diabang works on the material – struggles with it – embodies it. His canvases are sometimes scarred, scratched, wounded, knotted. They are alive and vibrant. One can guess secret links, invent stories. They echo our inner monsters or our dreams. They are like our moods – changeable. They discover themselves ad infinitum. And then at nightfall, between dog and wolf, the Blue Diabang lights up and we say to ourselves that there is something of the order of magic at work – an alchemy – a gift.
In short, Cool Diabang charismatically unveils this small moment of universal consciousness as an attitude, a gesture, a transformation hence an identity, through its experimental matrix.
These various media of exploration, remain his true love for art watering the whole of the mentalities. This rain of human consciousness sums up in a few lines at Cool, a memorable symbol that every initiate should understand through the language of art.
Après avoir été repoussée pour cause de Covid-19, la biennale de Dakar est de retour. Couleur café s'est intéressé au travail de l'artiste pluridisciplinaire Boubacar B. Diabang alias Cool Diabang,
Né à Abéné, un village côtier de Casamance en 1972, Diabang est issu de la promotion 1996 de l'École Nationale des Beaux-Arts de Dakar (1992-1996). Par la suite, il se forme, en effectuant plusieurs stages, à l'animation d'ateliers d'Art Thérapie à l'Université Alanus Hochschule à Bonn en Allemagne (2013-2014). Son travail actuel s'articule autour de la protection de l'environnement et de la nature. Il dénonce l'exploitation aveugle  des ressources minières en Afrique provoquant des problèmes d'insécurité sociale et alimentaire.
En Casamance, l'artiste s'engage auprès des siens, pour défendre leur terre contre le projet d'exploitation du Zircon et contre l'installation d'usines de transformation de produits halieutiques ne respectant pas les normes, hautement néfastes pour l'environnement et la santé de la population.
Parce que « la révolution commence dans l'assiette », lors de cette 14e édition de Dak'Art, Cool Diabang propose une performance artistique. Un projet collaboratif transdisciplinaire « food art » intitulé « Salade Kanja ». Il démontre qu'il est important de revenir à la nourriture naturelle que la nature nous procure. Pour ce faire, le « performer » a embarqué deux autres artistes interdisciplinaires : Ibaaku ExStaz, poète sonore et Fatou Samb, chorégraphe. Ces 3 artistes invitent leur communauté à davantage s'intéresser à la provenance de la nourriture. Ils militent pour moins d'artifices dans les technologies culinaires, moins de génie génétique dans la culture du vivant végétal. Surtout, ils ne veulent plus de nourriture souillée par les pesticides, qui nuisent à la santé humaine et dégradent les sols. Enfin, ils réclament moins de dépendance  alimentaire, plus de souveraineté et de sécurité alimentaire.
Par Ndèye Rokhaya Gueye
TRANSLATION
After being postponed due to Covid-19, the Dakar Biennale is back. Couleur café is interested in the work of the multidisciplinary artist Boubacar B. Diabang alias Cool Diabang,
Born in Abéné, a coastal village in Casamance, in 1972, Diabang graduated in 1996 from the National School of Fine Arts in Dakar (1992-1996). He then trained in Art Therapy workshops at the Alanus University Hochschule in Bonn, Germany (2013-2014). His current work focuses on the protection of the environment and nature. He denounces the indiscriminate exploitation of mining resources in Africa causing problems of social and food insecurity.
In Casamance, the artist is committed to defending his people's land against the zircon mining project and against the installation of substandard fish processing plants that are highly harmful to the environment and the health of the population.
Because "the revolution begins in the plate", during this 14th edition of Dak'Art, Cool Diabang proposes an artistic performance. A transdisciplinary collaborative "food art" project entitled "Salade Kanja". It shows that it is important to return to the natural food that nature provides. To do this, the performer has brought on board two other interdisciplinary artists: Ibaaku ExStaz, sound poet and Fatou Samb, choreographer. These three artists invite their community to take a greater interest in the origin of food. They are campaigning for less artifice in culinary technologies, less genetic engineering in the cultivation of living plants. Above all, they want no more food tainted by pesticides, which damage human health and degrade the soil. Finally, they are calling for less food dependency, more food sovereignty and food security.
L'œuvre de Diabang balaie différents mondes combinant le mystique, l'imaginaire et le réel. Bien qu'il explore ces mondes par le biais de diverses disciplines artistiques, on retrouve dans chacune d'elles un mouvement, une énergie et un rythme. Ses performances révèlent des actions clairement visibles dans les peintures et les peintures capturent une humeur évidente dans les performances. Les différentes disciplines s'alimentent mutuellement si fortement que l'acte performatif devient aussi important, sinon plus, que le résultat final. Diabang travaille le sujet, s'y plongeant pour s'incarner dans l'œuvre.
Des visages et des figures apparaissent dans les images de Diabang et les textures de la peinture laissent des espaces denses, mais abstraits, autour d'eux. Les actions de la figure ne sont pas claires, brouillées par des gestes picturaux impromptus et des emportements, mais il y a toujours un fort sentiment d'humeur dans chaque pièce qui raconte une histoire plus grande dans l'ensemble. Bien qu'il y ait beaucoup de mouvement inhérent à la réalisation de ces œuvres, les peintures de Diabang ne capturent pas une section du temps comme le ferait une photographie ; elles révèlent plutôt une atmosphère globale, riche en émotions.
TRANSLATION
Diabang's work sweeps different worlds combining the mystical, imaginary, and real. Although he explores these worlds through various artistic disciplines, there is a movement, energy and rhythm drummed into all of them. His performances reveal actions clearly apparent in the paintings and the paintings capture a mood evident in the performances. The different disciplines feed into each other so strongly that the performative act of doing becomes as important, if not more important, than the end result. Diabang works the subject, throwing himself in to become embodied in the work.
Faces and figures emerge throughout Diabang's imagery and textures of paint leave dense, yet abstract spaces surrounding them. The actions of the figure are unclear, blurred by impromptu painterly gestures and outbursts, yet there is still a strong feeling of a mood in each piece which tells a bigger story overall. While there is a lot of movement inherent within the making of these works, Diabang's paintings do not capture one section of time like a photograph would; instead they reveal an overall atmosphere, rich with emotion.
ADDRESSE
Le bois Lonfray
35140 Saint Ouen des Alleux
PHONE
SmartPhone : +33 6 85 08 95 15
EMAIL
contact@cooldiabang.com